Curriculum Linked Education Sessions
"Thank you to everyone at TGC! I've been booking your workshops for years now and have never been disappointed. It's great to give my class such rich and meaningful learning experiences with excellent curriculum coverage.
Looking at each unit's objectives I see you have touched on every single one. Amazing! I could never provide such variety and depth of experiences in the classroom. Learning outdoors brings so many topics to life!"
Year 4 class teacher, St Jude & St Paul's Primary School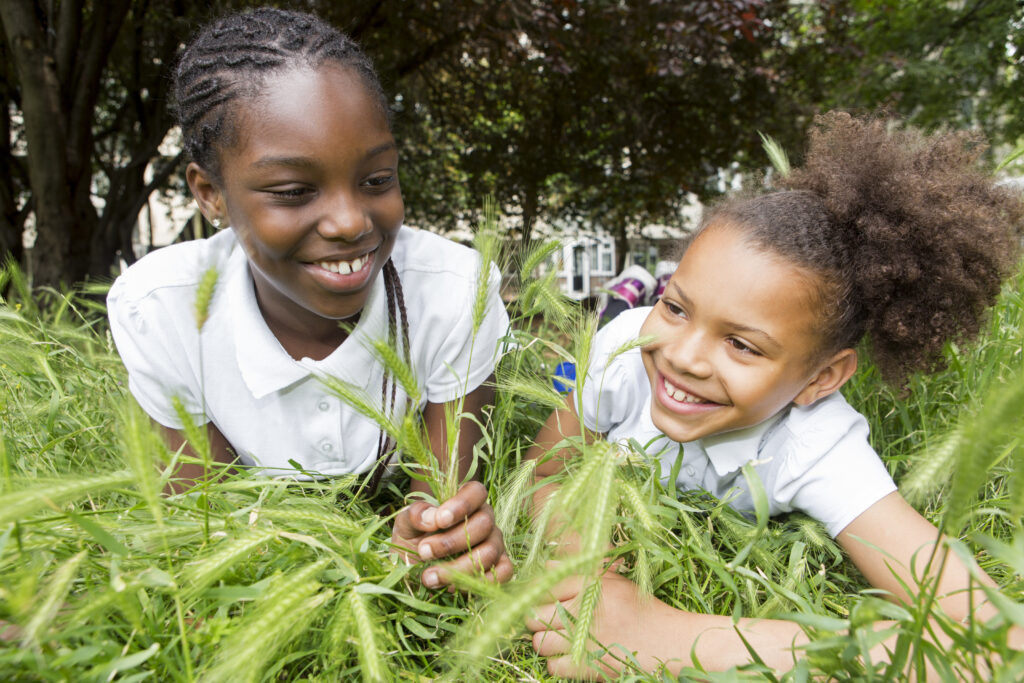 Urban Forest School
"We have found that there are huge social and emotional benefits to our children taking part in Urban Forest School activities. We have many children from socially deprived backgrounds, living in overcrowded homes often with little access to the outside and chaotic family lives.
Forest School offers them a nurturing environment in which to explore learning across the curriculum  in a relaxed atmosphere with all the advantages that being in the fresh brings for their mental and physical wellbeing.
We have found, particularly, that children with social and emotional difficulties respond well to these sessions and are able to participate in group activities and work collaboratively with their peers in a way they cannot in a classroom situation.
When our children return to school they will have spent months at home without access to the natural environment and with little social connection.
Providing as many children as possible with access to an Urban Forest School Programme at this time will be a powerful way to restore some normality to their lives, help them to heal, overcome anxieties and rebuild relationships and friendships with staff and other children."
Headteacher, Moreland Primary School
"My year one class have been doing Urban Forest School with The Garden Classroom every week since September. At first the children were really unsure about being outside: they were squeamish about insects and mud; they complained about the wet and the cold.
It didn't take very long for all of that to change. Week by week we have seen them open up like flowers in the spring:-) They anticipate the sessions now and talk enthusiastically about it all week.
It really has become the highlight! All of the children have made really good progress, but some of them have gone beyond my expectations.
Before our first session, key children were selected by the school to allow TGC to track the impact of the programme. It is fascinating to see how this vulnerable group of children have flourished.
One of the boys in this group can be very challenging in class: combative, and demanding; he struggles with turn taking. Urban Forest School has really calmed him down. He seems to have learned something about patience and empathy. I often remind him of how he is on these days at other points in the week and it has become the new standard!"
Year 1 class teacher,  St. John of Jerusalem Primary School
Special Schools
"Working with the Garden Classroom this term has been brilliant for our children. They worked really closely with us to design a bespoke package of trips linked to our own English, Maths, Science, History, Geography and PE curriculum all held in our local park. All the staff and children have enjoyed the sessions immensely and found they linked really well to what the children have been learning in class. With a good coat and a pair of wellies the weather has not been an issue at all!."
Headteacher, Moreland Primary School
Teacher Training
"What a truly wonderful day! Richard is an inspirational trainer. The Garden Classroom team were so welcoming and hospitable- lunch was delicious. All schools should send their teachers and TAs on this training as not only can it be applied in the outdoors but also in the classroom. It poured with rain all day but I went away feeling excited, enthusiastic and eager to apply the knowledge learned."
Assistant Headteacher for Inclusion,  St Jude & St Paul's Primary School
Countryside Programme
"From the moment we read the letter from the TGC team aloud to the Year 5 class the excitement and buzz about our 'Survival Adventure' was tangible.For most children, this was their first train ride and delighted cries of awe and wonderment as the train began to cut through beautiful rolling countryside in Kent could be heard rippling through the train carriage.
This is something that really resonated with me, realising that this was to be their first experience of a rural environment and so many of their experiences that day would be completely new ones.
The day was so thoughtfully planned out to enable the most time spent outside being completely immersed in nature. I was amazed at how quickly our children latched on to the idea of 'survival', working in their teams to build and finesse their outdoor shelters using the clove hitch knots they had recently learnt to make them strong and secure.
Later, sitting round a camp fire after having devoured a delicious vegetable chilli, we took some time to reflect on the day.Completely unbidden, comments echoed the same idea all around our fire circle of,  "So much better than just being stuck in playing games," and, "Who needs Roblox?!" and, "Why aren't we just outside all the time?"
I cannot believe the wealth of experiences that just one day at this fantastic day camp gave our children. Striding back to Shoreham station, with the help of our freshly whittled walking aids, we felt like true outdoor survivors.
Thank you once again TGC for your passion, enthusiasm and commitment to instilling a love of the outdoors and respect for nature in our children. It was just a pleasure to observe a different side to the children I know so well, with shifts in group dynamics and new friendships forming and strengthening. Also, to see other such important life skills emerge; leadership, problem solving, persistence, divergent thinking.
But above all, for all the children, regardless of previous experiences and backgrounds, one common feeling shared by all; one of genuine curiosity, carefree enjoyment and true respect and care for nature."
Learning Mentor and Senior Leadership, Nightingale Primary School
Bees
A fantastic opportunity   for the children to experience a beehive up close…and learn so much about pollination and the importance of bees.
Year 3 class teacher, Ashmount Primary School
Holiday Clubs
"I love Little Explorers because it allows my child freedom to run and explore but come back to me, to be sociable and structured too."
"For most of us living in small flats in London with no garden it provides an oasis of space. My child is adopted and still settling down. She's very active and busy so the group has been fantastic for her. I wish it was on for longer- thank you!"
"We have made the effort to come every week and seen it's easy to do and benefitted us both so we will try to go places other than playgrounds as much as we can."
"It's made me more aware of teaching my son about things in nature. We pick up seed pods and move them around all the time now."
"Feels like such a positive way to spend time with my son."
"Such an inspiring environment for children to explore and enjoy natural resources. Such a vital project for urban communities".
"Wonderful space with inspiring activities for children to be in nature. Such important work. Many thanks".
"A special setting and lovely, gentle free flow activities. Great to be part of it"
Feedback from parents and carers