We are planning a jam-packed programme of three night and four night camping residentials for Year 5 and Year 6 classes in September 2021.
Our residentials focus on nature connection, Forest School activities, wellbeing, resilience-building, cooking, and holistic child development. 
If you would like to find out about booking one of our heavily subsidised residential camping offers for your class then email our Countryside Manager Millie Darling on away@thegardenclassroom.org.uk.
Our Countryside programmes take place in three beautiful locations in the Kent and Sussex countryside.
All locations are a short train ride from London.
All of the locations we work at are incredibly beautiful and tranquil and give children an outstanding immersive countryside experience with time and space to reflect in natural surroundings.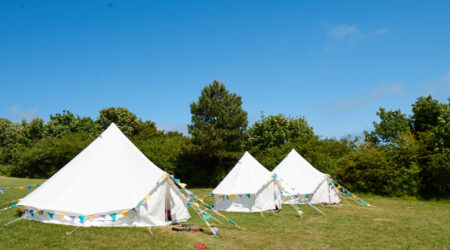 I cannot believe the wealth of experiences that just one day at this fantastic day camp gave our children. Striding back to Shoreham station, with the help of our freshly whittled walking aids, we felt like true outdoor survivors.
Thank you once again TGC for your passion, enthusiasm and commitment to instilling a love of the outdoors and respect for nature in our children. 
From the moment we read the letter from the TGC team aloud to the Year 5 class the excitement and buzz about our 'Survival Adventure' was tangible. For most children, this was their first train ride and delighted cries of awe and wonderment.
Hobbs Hill
We have worked at this beautiful ex-hop-pickers farm for the last eights years thanks to the generosity of a local farming family.
This is TGC's Base Camp and is operationally at the heart of our Countryside Programmes. Hobbs Hill has welcomed thousands of joyful North-East London children over the years.