Urban Forest School offers children a nurturing environment in which to explore learning across the curriculum in a relaxed atmosphere outside.
The Garden Classroom is proud to be able to offer a version of the traditional Forest School model that embodies the ethos and principles of this child centred movement, while being delivered with a class of 30 in an urban environment.
Through weekly immersion in nature, children develop a care for the natural world and build confidence, independence and resilience through engaging, hands-on activities.
Delivered by Level 3 qualified Forest School practitioners, the Urban Forest School programme delivers 10, two-hour sessions over a term with a EYFS, KS1 or KS2 class in a green space local to your school.  The programme costs £1200 per term for schools.
We have found that there are huge social and emotional benefits to our children taking part in Urban Forest School activities. We have many children from socially deprived backgrounds, living in overcrowded homes often with little access to the outside and chaotic family lives.
We have found, particularly, that children with social and emotional difficulties respond well to these sessions and are able to participate in group activities and work collaboratively with their peers in a way they cannot in a classroom situation.
Providing as many children as possible with access to an Urban Forest School Programme at this time will be a powerful way to restore some normality to their lives, help them to heal, overcome anxieties and rebuild relationships and friendships with staff and other children.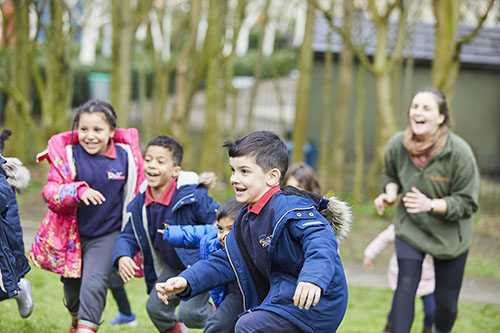 Sessions
Through engaging, creative, hands-on games and activities the sessions:
Develop the positive relationship between learner and the natural world
Foster resilience, creativity, confidence and independence in learners
Enable children to feel valuable, unique and equal
Opportunities for regular success as they develop new skills.
Create strong and positive relationships with themselves and others.