TGC launches it's TGC Wild Box offer for schools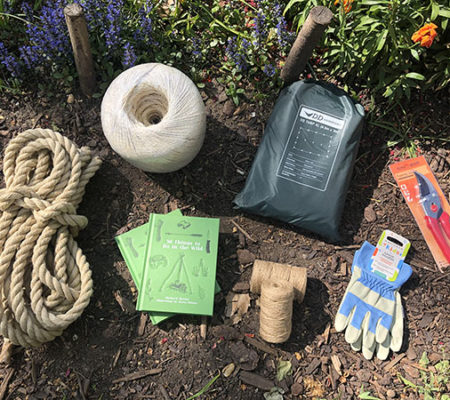 As we all adjust to the new challenges of life presented by the current situation, The Garden Classroom remains as determined as ever to help our school partners in Hackney and Islington deliver magical and meaningful outdoor experiences.
As our team are unable to visit your institutions at this time, we have been working hard to come up with creative solutions to support your incredible teaching staff…
Wild Box Service
The Garden Classroom is excited to offer you our new and exciting Wild Box service: a box delivered to your school that contains all you need to get started with achievable, active and fun activities that will have your group learning new skills and working together.
50 Things to do in the Wild
No prior experience of working in outdoor settings is needed – your team will have all the instructions they need in their signed copies of a new book written by TGC's own Richard Skrein – 50 Things to Do in the Wild!
https://www.pavilionbooks.com/book/50-things-to-do-in-thewild/
The book, a beautiful hardback with wonderful illustrations and clear step-by-step instructions throughout, will show your children how to make crafts using natural materials, tie knots, filter water, navigate using the sun, trees and clouds and much more!
Activities
At least fifteen of the activities in the book are achievable in the playground, local green space or even classroom and those that are not (e.g. the wilderness survival sections) could be used for literacy or drama activities, for example.
As well as two copies of the book, signed and dedicated to your school, the box will also include some of the resources necessary for a selection of these activities:
Plenty of string – both thicker sisal cordage and thinner jute for decorative crafts
One length of soft but extremely durable Poly Hemp rope
One high quality tarpaulin
One pair of secateurs
One pair of safety gloves (KS2 size) for use with the secateurs
Speak to an expert
These resources can continue to be useful to your school for many years, as they have been selected for their high-quality, high-sustainability and low price.
But this is not all! TGC will also offer you up to three video calls with the author himself, who can excite your group, answer questions about the activities and his adventures and check in on the children's progress.
This is a unique and exciting opportunity for your learners to learn new skills, connect with the natural world and speak to an author and outdoor expert.
Order a TGC Wild Box
To order a TGC Wild Box @ £200 or any queries please email:
info@thegardenclassroom.org.uk or call 020 7288 0188