Train to be a Forest School Leader or Forest School Assistant with The Garden Classroom in London or Kent.
Our Forest School courses are developed to provide memorable experiences in beautiful natural environments to inspire your practice and create a supportive community of learners.
Training package
As part of a wider training package, The Garden Classroom can also provide first aid training and volunteer opportunities to support portfolio and course completion.
Forest School courses are  accredited by ITC First and approved by the Forest School Association.
Level 2 Learners join Level 3 Learners for the initial training week, and have an option to transfer to the Level 3 course on completion of the initial training week, if desired.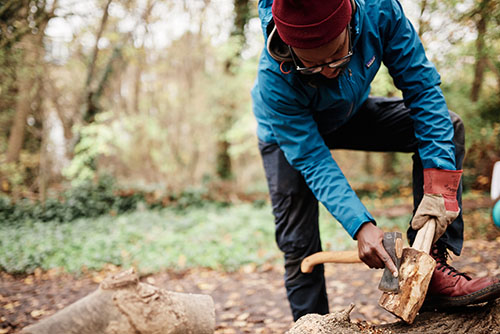 October 2021 in Shoreham, Kent
ITC Level 3 for Forest School Leaders and ITC Level 2 for Forest School Assistants
At The Quadrangle, Shoreham, Kent
Initial training week: 11th-15th October 2021
Assessment days: 21st - 23rd March 2022
How to book your place
Complete our booking form to secure your place for the October training at The Quadrangle.  Once we receive your form, we will email you an invoice for the course fee. Payment is due within 15 days of the issue date. Your booking is complete once payment is made. Thank you. 
I loved the mix of practical, technical skill-learning and free creative tasks. What really stood out was being given the opportunity to be creative, in my own way and without judgment.  I also had a lot of fun playing and learning a lot of new group games.
I liked that sometimes we would have very physical games and energisers then sometimes we'd be more controlled, learning to use tools, carefully making mallets. Sometimes then communicative exercises, discussing theories of learning or very quiet contemplative exercises with a creative outlet.